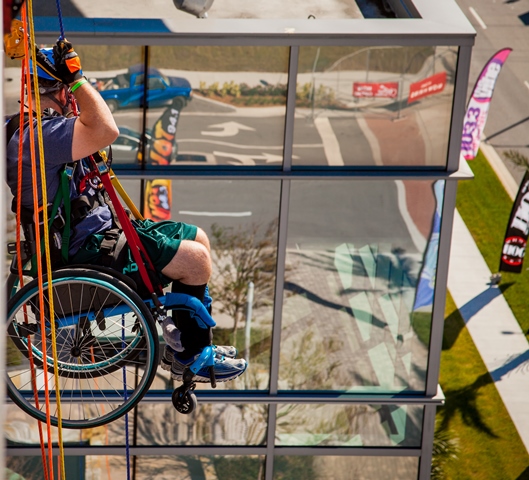 Edger Profile: Stephen Watkins
Not only did Stephen Watkins sign up as an Edger and go Over the Edge at ONE DAYTONA in 2017, he did so in his wheelchair! The stunned crowd stood speechless that morning at the bottom of the eight-story International Motorsports Center, until the roars and cheers began flooding up.

Here's Stephen's take on his rappelling experience:

Why did you decide to be an Edger in Over the Edge at ONE DAYTONA last year? I decided to become an Edger for Over the Edge because I thought it was a great opportunity to bring awareness to disabilities. It was a way to show the community we can do anything we want to.

What was the most exciting part of being an Edger?
The most exciting part of the experience was the thrill of repelling down the building. Being able to look out and enjoy the view from so high up, it's a sight I'll never forget.

What was the most meaningful part of rappelling for you?
When I first became a paraplegic and was wheelchair bound I did not think that I could do a lot of activities I did before. This event proved my thinking wrong. It showed that I can do anything, and any wheelchair bound person can do anything…we just do it differently. I think this is what Easterseals stands for. They assist families with disabilities and help them know they can do anything they want.

What were some of the reactions you heard from others about going "Over the Edge"?
The most common reaction I received from friends was, "How did you repel in a wheelchair?" or "Why would you want to repel down an eight-story building?" In the end, everyone loved the opportunity I'd been given: to show that people with disabilities can do anything.

What would you say to encourage others who may be hesitant to consider being an Edger in the Nov. 3 event?
I would tell them to take the risk and don't think about anything else. Being up there is a feeling you can't get anywhere else; it's a rush many people never experience. The thrill, fun and excitement you get is something you don't want to miss out on!

Why is supporting the work of The NASCAR Foundation and Easterseals important to you?
Supporting Easterseals and NASCAR Foundation is important to me because they assist people who are sick and who have disabilities. They help with awareness and spreading the word. Most of all, it's important because they don't define a person by his disabilities. They see the person inside them and push them to do whatever it is they desire.